Our Products
---
We Created Our Own Fuel Additive Applicator System - And It Works
We have developed an automatic additive dosing system that has a range of options which cover most of the known needs to directly dose vehicle, construction machinery or vessel fuel tanks and systems, including dosing directly into fuel flows while fuelling and into bulk storage tanks.
Automatic Additive Dosing System

 
Towai Technologies' automatic additive dosing system provides an autonomous self contained system which:
Can receive fuel data from a wide range of sensors including fuel tank level sensors, CAN networks, electronic flow meters or Keypad Display Units.

Accurately dispenses the correct volume of additive into fuel tank(s) or fuel flow over a range of climatic temperature conditions.

Supports the full range of known fuel additives with different dosing ratios and a wide range of viscosities.

Has two different additive tank capacity options - 5 litres and 20 litres.

Is self-contained within its mountings, and has power supply options of either 12 volts or 24 volts dc.

Supports connections to a vehicle onboard computer and to a wireless modem.  
Approximate installed sizes and weights are:
       AAD 20L    Length: 450 mm   Depth: 440 mm   Height: 440 mm   Weight: 16 kg empty, 35 kg full   Nominal Capacity, 20 L (5.3 gal)  
       AAD 5L    length: 300 mm   Depth: 260 mm   Height: 260 mm   Weight:  4 kg empty, 9 kg full   Nominal Capacity, 5 L (1.3 gal) 
Click Here for Product Range Sheet
Our Range of Options  
Our Automatic Additive Dosers and software options include automatically dosing:
Vehicle or machinery fuel tanks on completion of fuelling.
Bulk fuel tanks during filling to ensure full additive / fuel mixing.
Fuel tankers or depot bulk tanks directly into the fuel flow during fuel deliveries.
Vessel day tanks during fuel transfers, including while at sea.
Or by keypad entry if no suitable fuel level sensor is fitted.                     
Examples of the wide range of vehicles, machinery, vessels and depot installations are: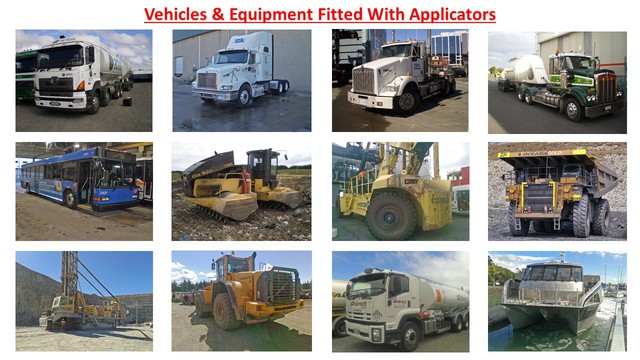 Doser Installations 
Some examples of our installations are shown below.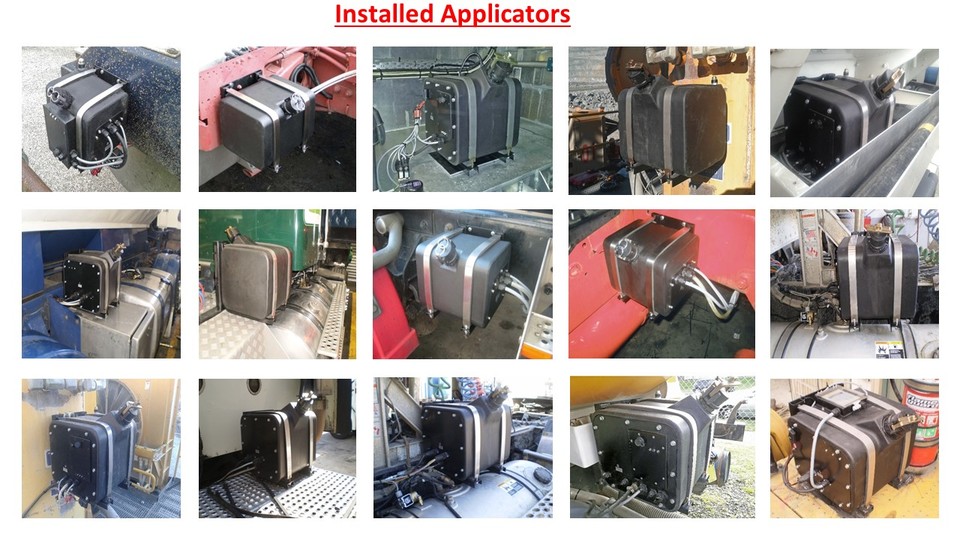 I
ndustry Compliance
 EMC  (Electromagnetic Compatibility) Compliance
The Electronic Control Board has passed FCC Part 15, Subpart B (class A), ICES-003 (class A), CISPR 22 (class A) and CISPR 25 (class A) EMC compliance testing.
WOSL Approval
Wiri Oil Services Ltd (WOSL), which is collective of the four major New Zealand oil companies, has approved Towai's Fuel Additive Applicator, including wiring and pipework, for installation on fuel delivery tankers.
Website Downloads Page
Our Doser software and associated documentation can be downloaded from the password protected Downloads page.
If permission to access this page has not already been obtained, then request it by emailing ronlongley@xtra.co.nz.
If approved, Towai will advise you of your password for access to the Downloads page by return email.
Pricing
Pricing varies dependent upon the options chosen which include:
Number of fuel tanks - from 1 to 4.

Automatic with no driver input, or if no suitable fuel level sensor is fitted then a Keypad Display Unit with minimal driver input.

Size of Applicator tank - 5 or 20 litres.

Heater fitted - which maintains a minimum set additive temperature for cold climates.

Vehicle, machine, vessel, fuel flow or bulk tank options.  
Please contact us for pricing for your application via the Contact page.
Warranty
Automatic Additive Doser units are warranted against defects in material and workmanship under normal use and service for a period of 12 months from the date of delivery to you, provided that they have been stored, installed and used in accordance with normal industry practices and conditions.